This Labor Day we're celebrating hard working dogs. Earlier this month The United States Senate passed the PAWS Act. The Puppies Assisting Wounded Servicemembers for Veterans Therapy Act directs the Veterans Administration to pay for Service dogs for a greater number of service members than ever before.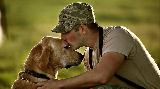 The Veteran's Administration has been paying for service dogs to aid veterans with physical injuries. A study initially funded in 2010 evaluated the use of dogs for veterans with Post Traumatic Stress Disorder (PTSD) and whether dogs can help in the healing process. Congress has not in the past funded the use of service or companion dogs for the Veteran's Administration because there had been no scholarly work on whether dogs helped to reduce the impact of PTSD. Now there is a completed study and dog's help. 
One outcome of the study is that service dogs have a greater impact on the lives of veterans than emotional support dogs. Both service and emotional support dogs aided in alleviating PTSD symptoms and reducing the suicide rate among veterans. Service dogs (https://www.military.com/daily-news/2021/03/05/service-dogs-better-emotional-support-dogs-reducing-ptsd-symptoms-study-finds.html) provided greater improvements than emotional support dogs. With this in mind, thank you to everyone who is training dogs to serve in whatever capacity they are needed. Happy Labor Day!